We do not have WiFi. Talk to each other!
My blog will reflect my thoughts and experience with Life Design that I would like to share with you. I write about anything that stokes my passion.
The idea for this blog came to me during a holiday in Namibia. I was there with my family on an organized round trip, which included visiting the first meteorite discovered in the world. My gaze fell on a sign, which hung at the entrance to the box office. It read as follows: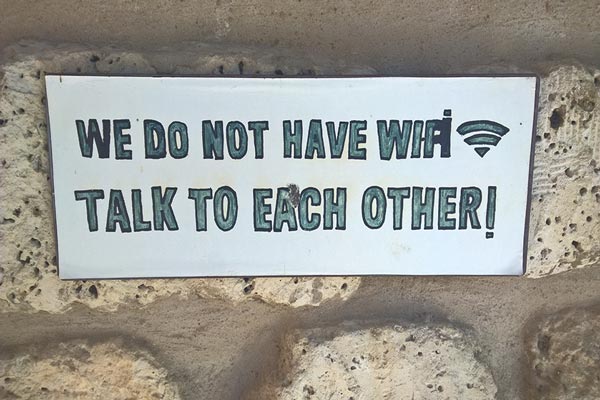 I live in a city – Berlin – with an almost omnipresent online coverage and I feel spoiled. According to the ARD / ZDF-Online statistics, 84% of Germans were online in 2016 (12 October 2016 press release). [http://www.ard-zdf-onlinestudie.de]
In the meantime, only 22% of Namibians are online. [https://www.destatis.de/DE/Themen/Laender-Regionen/Internationales/Thema/Tabellen/Basistabelle_Internet.html]. Obviously, Namibia – especially its urban centers where you can find Internet cafes on every city block – is experiencing a rapid Internet expansion. The Internet speed in Namibia varies greatly from one café to another. However, more and more places are starting to have DSL and therefore higher Internet speeds. Many hotels and other accommodations in Namibia now offer Wi Fi to their guests [http://www.afrika-travel.de/namibia/kommunikation.html]
However, one of the country's obstacles to better and faster online access is Namibia's extremely sparse population. In 2017, the total population of Namibia is estimated to be about 2.3 million inhabitants. After Mongolia, Namibia is the country with the lowest population density in the world. That's 2.55 inhabitants per square kilometer (compared to Germany's 231).
Namibia taught me a valuable lesson about my online behavior
What did that meteorite hotspot sign was really telling me then? After I took a picture of it, I lingered in front of it for some time and reflected. I liked its clear statement and an invitation to talk to each other. Its clarity was making a statement. In my home town of Berlin, more and more people we encounter in our daily lives – be it on the street, in a café, or in public transport – are lost in their smartphones rather than in face to face communications. It was different in Namibia.
What does Life Design have to do with it?
As a Life Design Facilitator* [www.workliferomance.de] I follow the Life Design Process. The process of Life Design is extended to life and work.[http://designyourworklifechange.com]. I've recently completed the step called "interpretation" to understand who I am at the moment. Trough that process, I was forced to face the sign in Namibia. In that exercise, I asked myself what my desires, interests and values were.
In this process, I used a small and really effective tool called Brainstorming. Brainstorming is a visualization method with a given time constraint and certain other conditions. It can be used as a group problem-solving technique that involves spontaneous contribution of ideas from members of a group and it can also be used as an individual technique. I sat down and designed a mind map, which contained two points – offline and online – and let my associations and ideas flow.
The outcome of my "offline v. online" mind map that resulted from the brainstorming exercise was the following:
The fascinating lessons that can be learned from silence and how to cultivate listening to silence rather than noise
Enjoy speaking to, playing with and experiencing community(ies) instead of consumption
Go to the more reliable sources for information: books etc. instead of random online sources
Reducing external stimuli, thusly minimizing the anxiety that usually comes with it
Definition of clarity/clearness
What does the dictionary say about clearness? I found the following:
1. clearness or lucidity as to perception or understanding; freedom from indistinctness or ambiguity
2. the state or quality of being clear or transparent to the eye [http://www.dictionary.com/browse/clarity]
I know all of you have had a-ha moments like these so I am not telling you anything you don't already know. But it does give one pause and ultimately another reason to never stop experiencing new things, if only to gain more awareness and understanding of oneself and others. I hope that I've been able to provide you a simple example and a helpful glimpse into Life Design.
"In an information-rich world, the wealth of information means a dearth of something else: a scarcity of whatever it is that information consumes. What information consumes is rather obvious: it consumes the attention of its recipients. Hence a wealth of information creates a poverty of attention and a need to allocate that attention efficiently among the overabundance of information sources that might consume it."
Herbert Simon, Social Scientist, 1971 (!)*
We seldom sit down and question our beliefs and habits. For instance, I could ask myself: "Why do I believe that it's difficult for me to be offline? Is that really true? Is it true for me now? Where did that belief come from? Would I be better off if I dropped that belief?"
Stop for a moment and catch your thoughts. What are you thinking of right now? If thoughts shape your life and experiences, would you want this thought to become true for you? If it's a thought of miss something, being not connected, alone, or revenge, how do you think that this thought will come back for you? If we want a joyous life, we must think joyous thoughts.
"Connect things in new way. Connect ways in a new thing."
Frank Bodin
Let us get inspired and creative today!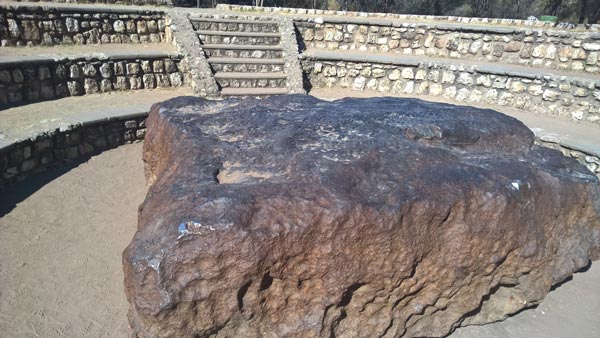 Meteorite (found in Namibia)